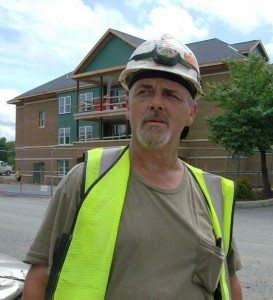 Donald Loyd Jr.
Foreman-Harrisonburg Area
East Division of Kirby-Vass Insulation

Total Years of Service: 11 years
Nominated By: Tom Kirby and Greg Cundiff
---
Employee of the Month Interview with Project Manager Kenny Smith on Jr. Loyd
What are three words to sum up Jr. as a KVI employee?
Dedicated, Punctual, and Loyal
Memorable moments or jobs with Jr.?
One of the jobs I thought Jr. did great work on was the Warren County Regional Jail. He worked well with all the other people involved and it turned out to be a really nice job for everyone.
Kirby-Vass looks to make sure all of its employees represent the company well with their work and their work ethic. How has Jr. demonstrated qualities that represent KVI in a good way?
Jr. finds a way to work well with others. He also shows up every day ready to work. Lastly he gets his jobs done in a safe, timely manner.
What do you like so much about Jr.?
Jr. is a very reliable person. You do not have to worry about him and if he is going to show up or not. Jr. will go wherever he is asked to go, it does not matter the location he will make it there without a complaint.
What is Jr.'s favorite quote?
"Kirby-Vass is number 1"
Why Tom Kirby felt Jr. should be nominated for Employee of the Month.
I think Jr. is an excellent choice for our first employee of the month. He solves problems and does not cause problems. He came back from a terrible accident showing he is resilient. He takes responsibility for his projects. If he has to work nights or weekends to get his projects done he does so without complaint. He is a good person.
Why Greg Cundiff felt Jr. should be nominated for Employee of the Month.
Jr. is an extremely good problem solver. When he solves the problem himself, it helps others be free from having to deal with the same problem.