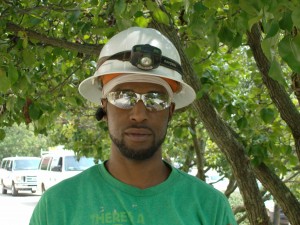 Employee of the Month:
Chris Walker-Wells
Firestop of Virginia-Fire Stop
Technician
Total Years of Service: 2 years
Nominated By: Mike Divers
Employee of the Month Write-Up:
For the month of September, our Employee of the Month is Chris Walker-Wells. Chris works for Kirby-Vass Insulation's sister company, Firestop of Virginia. Chris was nominated by his project manager, Mike Divers, because of his hard work and dedication on the Liberty Commons job. The Liberty Commons job is one of the biggest jobs we currently have going on for Firestop of Virginia and Chris was the lead man on the job. He has done an outstanding job managing and maintaining quality work throughout the tenure of the Commons job. Chris has been with us for over two years and he is always working to get potential employees to call us and inquire if we are hiring. Several current KVI and Firestop of Virginia employees have been brought on to our company by Chris's recruiting. Chris has shown great dedication to the company with his efficient work, recruiting, wiliness to travel for jobs, and overall great attitude at the job sites. Thank you Chris for your hard work, it has not gone unnoticed.
https://kcfsv.com/wp-content/uploads/2019/01/Kirby-Cundiff-Insulation-and-Firestop-of-virginia.png
0
0
jheveron
https://kcfsv.com/wp-content/uploads/2019/01/Kirby-Cundiff-Insulation-and-Firestop-of-virginia.png
jheveron
2015-10-01 11:18:22
2015-10-01 11:18:22
Employee of the Month: Chris Walker-Wells